What is Creative Camp?
Creative Camp is for everyone with the ambition to create, learn and grow. If you are feeling stuck in your creation, uninspired or feel like you lack support and community.
One week to focus on your creative projects, alone or in collaboration

A large villa in a beautiful location

All inclusive delicious cooked meals

Voluntary sharing sessions/workshops with other campers

Excursions and activities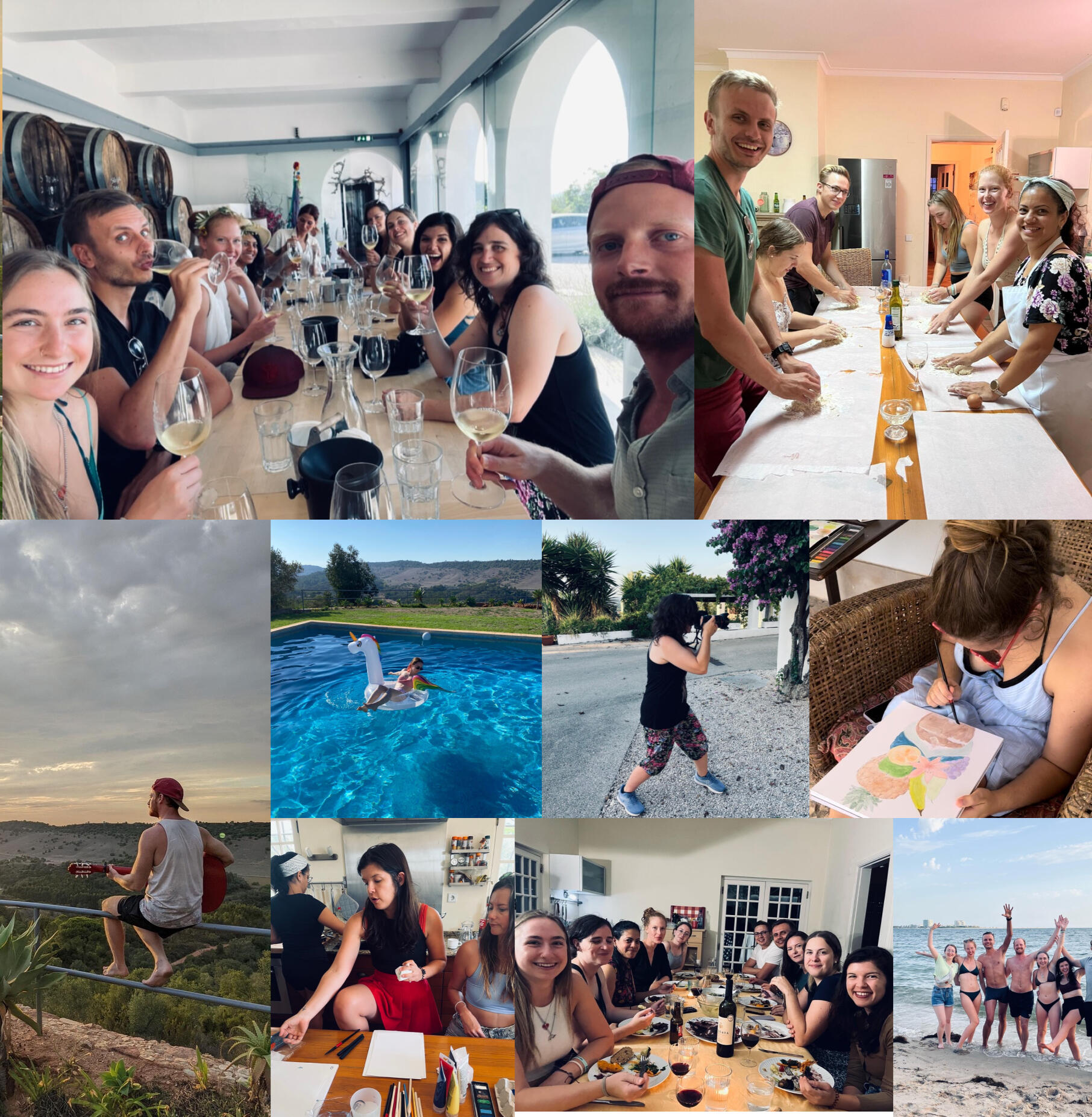 Schedule and Activities
Planned Sessions I will be running sessions at the beginning of the week for your creative vision tied to goal setting, daily short updates and end-of-week session.

Skill Sharing These are sessions run on a voluntary basis by campers within an area they have knowledge. Examples from previous camps include macramé workshop, art class, yoga, meditation, video for social media, and many more.

Food Food will be cooked for everyone two times a day, a proper dinner and a simple lunch. Breakfast is also included but is self-serve.

Excursions Depending on interest and weather we will go out on excursions, examples include wine tasting, surfing, sightseeing or hiking.

Independent creation The rest of the time is spent working on your creative project and maybe take a break every once in a while to hang out by the pool.
This is an example of the schedule for a previous creative camp. The exact schedule will depend on what sharing sessions campers want to run and which excursions the group find the most interesting.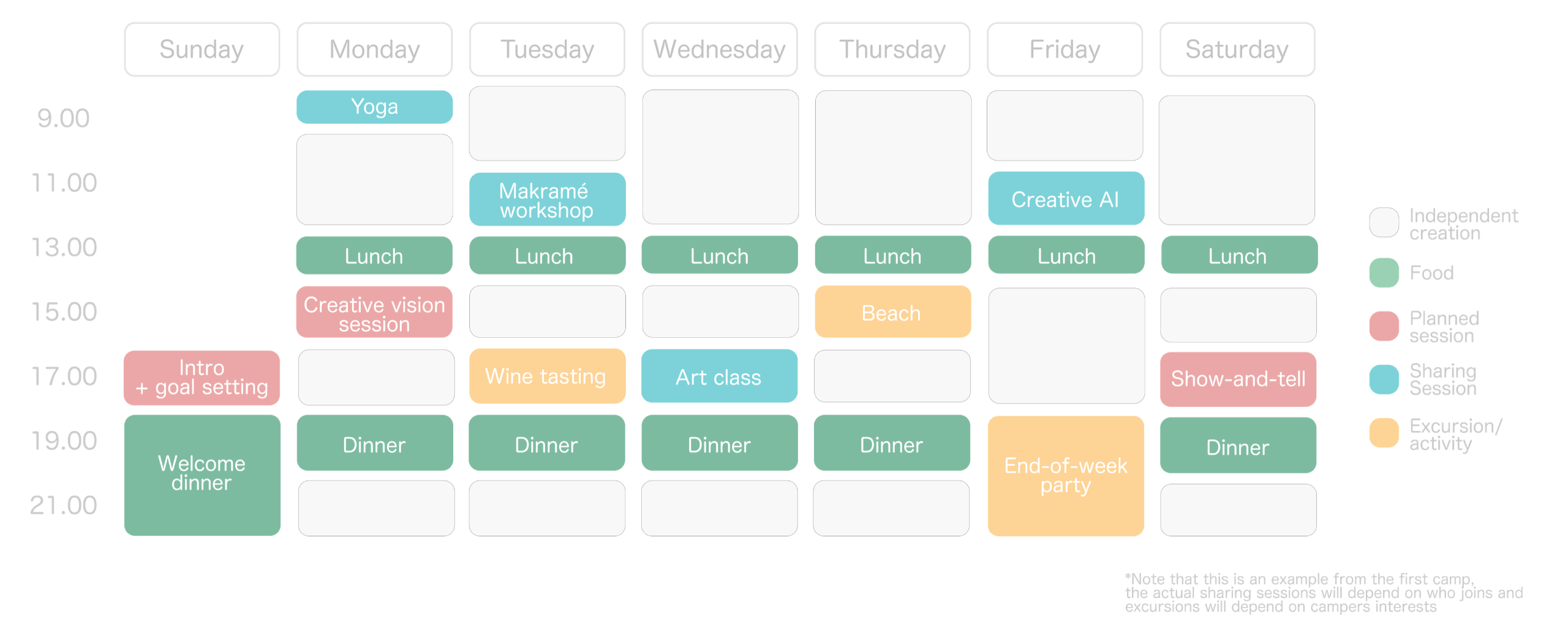 Who is this for?
You are curious and driven to explore ideas and want to spend your time creating.

You enjoy creation, either professionally or as a hobby.

You want to support others and share your knowledge.

You want to interact and get to know other people.
Who is this not for?
You are ONLY here to chill by the pool and have a vacation.

You are not open to different personalities and cultures.

You see this as a way to market your business.

You want to be served and cleaned after.
Next Camp:
Portugal 21-28 May
One week to focus on your creative projects, work alone or in collaboration

Beautiful villa close to Lisbon

All inclusive delicious cooked meals

Voluntary sharing sessions/workshops

Large pool and close to beaches

650€ (including accommodation, food and transport )
Waitlist for future camps
Beliefs
There is Power in Creation - Creating something uniquely yours is powerful. It's fulfilling and a great way to express emotion, ideas or just enjoy life. Put something new into the world that would not have existed if not for you.

Creation is for Everyone - Everyone who is good at something started out sucking. So let's get started!

Community - It's helpful to be surrounded by other creative people for motivation, feedback and good times. Social accountability is not to be underestimated.

Finish Something - Getting something completed and out into the world is more important than endless planning and hypothesising. Nothing will ever be perfect, so at som point we have to accept "good enough".

Expand Viewpoint - Creation is done best with a mix of focused work, letting the mind wander and incorporating other's opinions and ideas.
Join WhatsApp Community
The WhatsApp community is where you can keep meet with others who enjoy creation. It's a way to more continuously get motivated and inspired by seeing what other campers are working on and share what you are up to. We run remote creative weeks and a group of constant show-and-tell.
Background
I'm Markus, the founder of Creative Camp. I'm a Swede with a passion for different creative pursuits, like art, music, design and software. I run an Investing app, do data science consulting and am currently building a software tool to speed up the creation of high fidelity illustrations using AI. I took an art class 10 years ago with an amazing community; where people improved rapidly and had a great time learning and creating. I have missed that community feeling for creation ever since. The idea for Creative Camp came after a surf camp where the people were amazing but I felt something was missing since I didn't create anything or progress in areas I cared about. So I started Creative Camp!
Get in touch
Write a message if you have any questions, I'll get back to you as soon as possible.
© Untitled. All rights reserved.